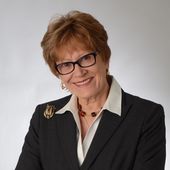 By Gloria Valvasori, Accredited Senior Agent, REAL Experience | REAL Commitment | REAL Results!
(BETTER HOMES AND GARDENS REAL ESTATE SIGNATURE SERVICE)
Many years ago, before I became a real estate professional  I was a single mother raising two children. I was working as a "secretary, better known today as an Administrative Assistant. I was on a bi-weekly salary and depended on those cheques to maintain myself and my children. One of my friends who was a successful Insurance Agent encouraged me to get into sales because he thought I had the right personality and would be successful.  Needless to say I was very hesitant to leave my job and bi-weekly pay cheque in favour of being paid solely on commission sales.Then someone said to me... "Gloria, don't be afraid to step out of your comfort zone.. after all ....what's the worst thing that can happen?   If you don't succeed you can always go back and get another administrative job, but if...