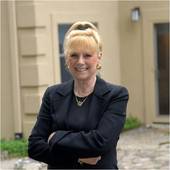 By Gay E. Rosen, As Real as Real Estate Gets!
(Julia B. Fee Sotheby's International Realty)
Back in January, I received a very nice phone call... someone wanted to view a listing of mine..  All good. I showed the home, and explained that if interested, she would have to know that I represented the sellers!, but I would/could have someone represent her from within my office. She looked at me for  what seemed like ages, and thanked me. The following day, she called me, and asked me to show her homes that were priced in the $7-12 Million Dollar range! Oh my goodness! I then embarked on a wonderful journey, for I did not realize who the lady was, (of course I soon discovered) , and I could well understand why she was reluctant to announce her name upon first meeting. She wanted anonymity. I worked on her behalf for probably 10-15 hours each week thereafter until we centered upon a...