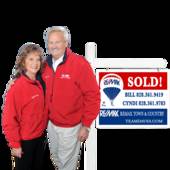 By Bill & Cyndi Daves, TeamDAVES - Your REALTORS In the GA/NC Mountains!
(Hiawassee, Young Harris, Blairsville, Hayesville, Murphy and Beyond!)
  We can't stress safety enough these days.  We've all heard stories on the news about real estate agents who are lured to a vacant listing and are raped, robbed and murdered.  I'm sure you're thinking "Surely I'm safe in my OWN home?"     Don't be so sure.     Did you realize that FSBO sign in your front yard is an invitation for anyone to ask to come into your home?  That includes those with not-so-great intentions.  In today's world it's not so hard to imagine a thief posing as a prospective buyer and getting YOU to give him a tour of YOUR home so he can see first hand if there's anything of value.     Here are a few tips to help keep you safe:   Attempt to have a buyer pre-qualify before showing them your home.  It's the easiest way to have more information about them and see if th...