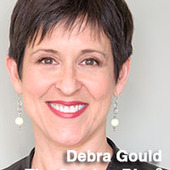 Home Stager
Debra Gould
The Staging Diva
Toronto, ON

—

Staging Diva / Six Elements Inc.
Debra Gould, creator of The Staging Diva Home Staging Business Training Program. Trained 7000+ stagers in 22 countries. Featured on HGTV plus newspapers, magazines, radio in US, Canada and Australia.
Get to know Debra Gould
Home Staging expert Debra Gould, known internationally as The Staging Diva, has personally staged hundreds of homes in the $170,000 to $1.7 million price range since 2002 for the home staging company she created, Six Elements Inc.
Debra has made it her mission to educate homeowners and agents about the benefits of home staging and how to hire the right home stager. In addition to the Staging Diva Directory of Home Stagers, she created a free Home Stager Locater Service, which generates hundreds of project leads for her Graduates.
Frequently profiled in major media, like HGTV, Woman's Day, Better Homes and Gardens, CNN Money, Entrepreneur Magazine, Style at Home, House & Home, Wall Street Journal, CBS Radio, CBC Radio, CTV, GlobalTV, CityTV, Pulse24, Toronto Life, Globe & Mail, Toronto Star, National Post (to name a few), she has built awareness of home staging and its benefits.
Using the experience of her 25 years as an entrepreneur, her background in Marketing (MBA), Communications (BA) and the experience of growing her own successful home staging company, Debra created the Staging Diva Home Staging Business Training Program and has helped over 7000 women and men all over the United States, Canada and 20 more countries to start and grow their own home staging business.
She cuts through the fluff and focuses on the essential information that helps others free up their time to do the staging work they love, while really making money as home stagers.
Debra's top selling book Staging Diva Ultimate Design Guide: Home Staging Tips, Tricks and Floor Plans is written to boost the confidence of new and established home stagers alike and help them avoid common home staging pitfalls. Design tips for every room in the home are brought to life through before and after photos from Debra's clients' homes along with detailed floor plans.
In Staging Diva Ultimate Color Guide: the easy way to pick colors for home staging projects Debra helps home stagers know when and how to recommend colors to a client and even identifies her favorite 90 colors (by name and number) that will work in any home staging project.
Staging Diva Ultimate Guide: Creating The Perfect Portfolio to Sell Your Home Staging Services teaches new and existing home stagers to upgrade their portfolios. How to write convincing copy, how to get better before and after shots, how to have a professional logo designed, how to get the right kind of client testimonials and when to use them, how to get into the media and more are covered in detail.
Many home stagers waste far too much time running around doing free estimates or cutting their prices because they think that's the only way to get business. Both are a sure road to burn out and bankruptcy. Debra shares her secret sales script for how she went from zero business to making $10,000 a month staging homes within two years in Staging Diva Sales Script: How to Avoid the Free Estimate Trap and Turn Homeowners into Home Staging Customers in One Phone Conversation.
Many new and established home stagers still struggle with what to do during a home staging consultation, what to say to clients and how to say it without offending them. Others waste valuable time and money typing up client reports. For this reason, Debra wrote the Staging Diva Home Staging Consultation Checklist with Room-by-Room Client Planning Forms. This product can be purchased on it's own. It's also a FREE bonus with course 3 of the Staging Diva Program, "Taking the Mystery Out Of Home Staging Consultations."
For aspiring home stagers unsure of whether home staging is the right business for them, Debra offers a FREE QUIZ. Those who sign up for it online also get a FREE subscription to "Staging Diva Dispatch," a monthly newsletter filled with staging business tips, articles and inspiring profiles of home stagers.
In addition to her two blogs on Active Rain, Debra writes an ongoing column, Home Staging Business Report.
Visit http://www.stagingdiva.com for more information.
Read hundreds of reviews at http://www.stagingdivareviews.com
Debra Gould's Blog Posts
Real Estate Sales and Marketing
–

almost 5 years ago
Real Estate Best Practices
–

almost 7 years ago
Real Estate Sales and Marketing
–

over 8 years ago
Real Estate Sales and Marketing
–

almost 9 years ago
Staging Diva Debra Gould Teaches Home Staging on HGTV
Debra Gould teaches Ambrose Price how to stage a house for HGTV. Staging Diva® is a world leader in the home staging business training field with over 7,000 students in 22 countries. The company teaches creative women (and a few men) how to use their natural talent to earn a living decorating houses to sell (also called home staging). Take the Staging Savvy Quiz FREE at http://www.stagingdiva.com
Certifications
Debra Gould, also known as The Staging Diva®, is the only home staging trainer with an MBA in marketing, 25 years experience as an entrepreneur, and a proven track record growing a successful home staging business— not as a sideline to real estate, but as a stand alone home-based business.
The Staging Diva® Home Staging Business Training Program is the only home staging business opportunity recognized by Entrepreneur Magazine in all of their Be Your Own Boss and Business StartUp Guides for the past 7 years!
Trained over 7,000 home stagers in 22 countries. Bought, staged and flipped 8 properties in 4 cities.
Testimonials for Debra Gould
Blaise Furiato Blaise N Designs, LLC

05/14/2013

"When I was downsized during Hurricane Sandy I saw this as an opportunity to begin my own business as a home stager. This career change has allowed me to re-discover my original love of designing homes and creating a job that I love. The Staging Diva Program gave me the tools to run the 'back of the house' of my staging business with confidence."

Sherry Bhatthal-Multani

03/04/2013

"The Staging Diva Home Staging Business Program is a 'must have' tool in starting off your Home Staging business. As a graduate of an Interior Decorating and Design program, after graduating I had no direction of how to start my own business. For over 4 years all I could think of is that 'I want to do Home Staging, but I don't know how to just go and do it.' Your program gave all the necessary information on the 'how to' for everything involved in a Home Staging business. Thank you Debra!"

Cari Calhoun, Destiny by Design

01/31/2013

"I contemplated starting a staging business for a year before I finally took the plunge and purchased the Staging Diva program. It's been 10 days since I purchased it and I have done more in those 10 days than the entire last year. I really have been very inspired and finally have a direction thanks to the Staging Diva Training Program."



Lori Fischer, Rethink Home Interiors

10/11/2012

"Thanks so much, Debra!! I wouldn't have all of this without you -- you're amazing! If I had not found StagingDiva.com, I would still be stuck in an industry that sucked the life out of me. It was only through your training and constant support that I am now enjoying the career of my dreams and my kids are getting to see how, bit by bit & choice by choice you can create your own space in this world. Thank you!!"

Sally Monyancha, Divine Home and Design

05/11/2012

"When I discovered that home staging existed, I decided to quit my accounting job and start a home staging business. The biggest challenge was how to price my services. I am glad I decided to take the Staging Diva Program because there is so much I am learning and there are so many mistakes I made that I wouldn't have made if I took the program before starting my business. Thanks Debra for the wonderful information you have for us."

Gregg Churchill, Mr. Home Staging

02/27/2012

"Just wanted to extend a big warm Aussie Hi to you. I have learnt SO much from you, just amazing. You are a huge inspiration to all of us stagers worldwide, so keep up the great work."

Sveta Melchuk, Decora Solutions

10/01/2008

"The last staging client you referred to me turned into a $7,000 home staging project. Since Graduating from your program, I continue to look forward to every bit of information from you, as I always find something useful for me at the stage I am at. Keep doing what you're doing!"

Dane Caldwell, 2 Hounds Designs

12/20/2007

"I have never been so driven, passionate and totally motivated as I have been since completing the Staging Diva Program. Run, don't walk to your computer to enroll now! You will regret that you didn't do it sooner!"

Anne Counard, Ideal Home Staging

07/15/2007

"Thank you for the home staging project referral on that $1.6 million dollar home. The staging went well and I felt confident and comfortable thanks to what I learned in the Staging Diva Training Program."
Introducing a fresh new look for your Profile.
Click the 'Edit Profile' button below to enter 'Edit Mode' and continue the tour.