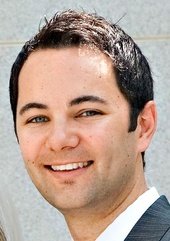 Mortgage and Lending
Shane Barker
Salt Lake City, UT

—

Amerifirst Financial, INC.
6955 Union Park Center
Suite 140
Cottonwood Heights , UT 84047
---
Get to know Shane Barker
A mortgage company combining forces with a technology company? Why is that an important advantage for a real estate agent?
Find out here:
About me:
I grew up in the small town of Weiser, Idaho, population about 5,000. I grew up playing hide-and-go-seek, kick-the-can, and capture-the-flag in a neighborhood and time when you could stay out playing until Midnight and not have to worry that something bad was going to happen. What ever happened to the good 'ole days?
I played a lot of sports, as well, and in high school played on the Varsity basketball team and eventually played on some teams up at BYU-Idaho in college. In high school, I also competed in just about every event in track, not because I was really good at everything, the coaches just didn't know what to do with me. They finally settled on long jump, which I ended up being decent at.
After high school I served a two-year volunteer church mission to the South Dakota Rapid City Mission from '99-'01. Yeah, it wasn't very far from home, but I sure loved it out there and really loved the great people in the mid-west. After returning home I immediately found a job so I could save up and buy myself a car!
I landed a once-in-a-lifetime job working at the 2002 Salt Lake Winter Olympics. I was the backstage manager at the Medals Plaza. For anyone who attended the ceremonies at the Medals Plaza would know this is where all the medalists, celebrities, dignataries, bands, etc. came every night for a show. I was the one who got to greet every single one of them, open the door for them, shake their hands, and get them to their dressing room. It was an incredibly fun experience for a 22 year old guy, and something that was suprising to me, most of the celebrities were much shorter than I thought they'd be. Most were really nice and were enjoying themselves. The Foo Fighters were having a snowball fight on North Temple!
That fall of 2002 I began school at BYU-Idaho in Rexburg, Idaho. I loved it up there, made a lot of life-long friends, and learn a lot about myself, my weaknesses, my strengths, and what I'm capable of achieving. I played on one of the basketball teams for three years, we won one championship. I was involved in a lot of activites and was frequently playing on intramural basketball, flag football, bowling, and softball teams. In the summers between school years I did summer sales, where you'd pick a city and go for the summer to sell pest control or satellite dish. I sold in Santa Clarita, California my first summer, Santa Maria, California my second summer, and Nashville, Tennesse, Cincinati, Ohio, and Huntington Beach, California my third summer. If you have ever had a door-to-door salesman come to your door and try to sell you bug service or Dish Network, that's what I did day in and day out every day of the summer to earn money to put myself through school. I'm proud to say that I was able to pay for 100% of my college through my own hard earned money. Those long days on the doors helped me learn persistence, mental toughness, and to develop a thick skin when someone is yelling at you! I finished school at BYU-Idaho in the spring of 2005 and left with an associates degree.
I finished my Bachelor's Degree in Economics at the Univ. of Utah in 2008. I began working at iFreedom Direct Mortgage in 2008 just as the economy was tanking. I learned an enormous amount of valuable information as the industry began to change almost on a monthly basis. I was able to excel and learn through all the waves the mortgage industry went through. I eventually worked my way up to the #1 Loan Officer in the company out of over 130 LO's. I specialized in VA loans, which most people find the hardest type of loan to do. I've completed over 250 VA mortgage transactions and know the regulations and guidelines extremely well. I can compete a VA loan just as quickly and effectively as a conventional or FHA loan. Every year I was at iFreedom I made President's Club and also set numerous records. But more importantly, I learned what it takes to be a great advocate for my clients and deliver above and beyond their expectations. I learned vital skills and attributes necessary in today's mortgage environment to deliver for my clients effectively, accurately, and timely ensuring that they are well educated of their options, what the process entails, what's expected from both sides, and how we can work together to make this an easy and happy experience. Bottomline, I work very hard to take care of my clients. I want them to feel comfortable to refer me to their friends and neighbors and want to return to me for future needs, looking to me as their go-to guy when it comes to mortgages. A mortgage is not a one-time transaction, it should be the beginning of a long relationship that is built through hard work and trust.
I went back to school while working full-time from '09-'11 and earned my MBA from the Univ. of Utah. Two long, hard years of classes at night after work finally came to a completion in August 2011. My wife and I had a baby girl during this time frame, so while it was hard, it was definitely rewarding to finally walk across that podium and recieve my Master Degree and, more importantly, free up some much needed time to play with my little girl and see my wife.
This bring me to my current position here at Amerifirst Financial. I had outgrown iFreedom and what it could offer. I began looking for a company with a vision and direction that more suited my ambitious goals. I found those things in Amerifirst.
I found that Amerifirst was a great company in it's ability to get a mortgage loan done timely and efficiently, but who can't name off numerous companies with the same ability? I needed more than that. What I found with Amerifirst that really set it apart from the other mortgage companies is what it can offer to Real Estate Agents. In this industry, loan officers approach real estate agents and beg for them to send business their way, they are always taking and not usually giving back. Amerifirst takes a different approach by going to the agent and offering tools and services that add value to the agent that helps them become more successful in their industry to sell more homes. What sets Amerifirst a part is that the tools and services are uniquely cutting edge and extremely effective beyond anything any other company is offering out there. So not only are we able to offer useful services to agents, we are able to offer the most effective and up-to-date technology to agents to give them a huge advantage over other agents not using these tools. And the best part, we can offer it all for free. So while other agents have to spend their own money a lot of times for tools that seem to work so-so, we can offer them incredibly effective tools, for free! That was a no-brainer for me. Seeing the advantage I would have and the ability I would possess to help agents increase their business and set up long, fruitful, mutually beneficial relationships was exciting!
I realize as I create trust and help agents become more successful I will become more successful, it's a win-win for both sides. So I made the switch to Amerifirst and that has become my goal, so if you are one of my agents that has started this journey with me, I want to thank you for giving me a chance to prove my worth to you. It is my focus to help you become as successful as possible. The sky's the limit!
Sincerely,
Shane Barker
Loan Specialist
Amerifirst Financial
Shane Barker's Blog Posts
ActiveRain Community
–

over 8 years ago
ActiveRain Community
–

over 8 years ago
ActiveRain Community
–

over 8 years ago
ActiveRain Community
–

over 8 years ago
Certifications
I specialize in VA Loans, but as anyone who knows the mortgage business would know, VA Loans are the toughest loans to get done, when you don't know what you're doing. Luckily, I've closed over 250 VA Loan transactions and can get a VA loan done just as quickly and efficiently as a Conventional Loan.
I am very knowledgable, efficient, and timely with Conventional, VA, and FHA loans.
We also offer unique lending options such as Condotels, Super-Jumbos, and 2nd home rentals just to name a few. So if you have unique financing needs I'm here to help.
Introducing a fresh new look for your Profile.
Click the 'Edit Profile' button below to enter 'Edit Mode' and continue the tour.