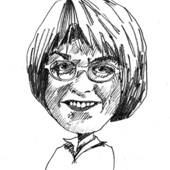 573728
Real Estate Agent
Susan Nealey
No Pressure! Ever!
Annapolis, MD

—

Coldwell Banker Realty

Coldwell Banker Real Estate LLC
Expert Service from Search through Settlement, and all those Pesky little Details in Between!
Get to know Susan Nealey
I have lived in lots of different places–Maine, North Carolina, Pennsylvania, US Virgin Islands….we never went on vacation–we just moved there! I married a Vet who was also the son of a Military Career Officer so he loved to move as much as I did. Since we bought and sold everywhere we lived, I 'd like to think I learned from the best realtors in lots of locations!
I was a teacher and then a stay-at-home Mom for many years. I thought I was doing really well just doing that, but my daughter turned 17 and decided that Mom needed to get a life!
"What am I going to do?" I asked.
"You are going to be a realtor!" she said.
"Oooooooooooh no, I'm not!! They work too hard. I don't want to work nights and weekends!"
"Too late," she said "I signed you up for class. You start tomorrow. Here are your books!"
Is it possible that your children know you better than you know yourself? She was right. Real Estate is perfect for me. And, yes, I work nights and every weekend and I love every single minute of it!
I have helped both of my children find homes. I have helped their friends.  I LOVE teaching first time buyers how to buy a house so that when they go to buy house #2, they will know exactly what to do.  
I can be a pit bull! If my clients want something, I'm going to make it happen! And I won't stop until I do. I won't be your new best friend, but I might be the best thing that's ever happened to you.
Now, isn't that what you really wanted to know about me? I'm great at my job.
End of story.
Susan Nealey's Blog Posts
Home Buying
–

over 1 year ago
Home Selling
–

about 3 years ago
Just for Fun
–

about 3 years ago
Home Selling
–

over 3 years ago
Testimonials for Susan Nealey
Janice and Phil

11/03/2014

"Susan is the best! She definitely has her clients best interest in mind when finding a home, doing the negotiations, and closing the deal. We were so pleased with her that we referred 3 of our friends who were moving into the area and Susan helped each one find and purchase a home! I am now ready to sell my house and Susan helped me assess my house and determine a fair market value. She is very attentive to your needs and stays with you throughout the process! Can't say that for a lot of realtors. She has lived in the area for a long time and raised her kids here so is very familiar with all the cities/towns in Anne Arundel County. My husband and I highly recommend Susan for all your real estate needs!"

"My husband and I purchased a second home with Susan over 8 years ago. We used this home as a vacation home until a move required we convert it to a rental until we can get back to the area. Susan was excellent in the original hunt and negotiations. She listened to what we wanted and help us find the best home for the money. Since our purchase, she has provided support to our rental efforts. She has helped locate three different sets of renters. All have cared for our home like we would. Susan is aggressive when she needs to be and cooperative when that gets the job done. We will continue to use her and recommend her to friends. "

Drew and Bethany

06/01/2014

"There really are no words to express the gratitude we feel for Susan Nealey for all of the help, guidance, and knowledge she provided when purchasing our first home. We were the picky-est of picky-est buyers with very strict guidelines and she was able to find us the perfect home that met them all. This being our first home, this was already a HUGE deal for us. Susan was able to balance the perfect amount of professionalism and a personal touch to provide us with a great experience. She was honest, straightforward, and knowledgeable. She had an answer for every question we came up with and trust me there were a lot. All the while she made us feel like she had nothing but our best interest at heart which was so refreshing. She got to know us and made us feel so comfortable. She walked us through the entire process from house hunting to the signing of the final contract, and even followed up with us after the process was complete. Susan will always have a special place in our hearts for helping us with our greatest accomplishment yet. I will never use another realtor."

John and Carol

04/16/2014

"My wife and I moved to the area not knowing anything about the local real estate market. As our good luck would have it, we found Susan Nealy and asked her to be our agent. She has been the most wonderful agent we have ever worked with. Since day one she has gone above and beyond what we had expected of her. Even though we are very picky, she has never made us feel rushed or that we are inconveniencing her. Susan has a natural gift of getting to know her clients and does an excellent job finding them a home not just a house. She is professional, dedicated, and very hard working. What has impressed us the most about Susan is the fact that through her experience and knowledge, she has pointed out important consideration in buying a home that we would have never thought about on our own. We would highly recommend Susan to anyone considering buying or selling a home in this area."

Kim and Melvin

04/03/2014

I have what I think is kind of a unique experience that testifies to what a great Agent Susan Nealey is to share with you.

I met Susan when I was selling my house back in 2003 in Ferndale, MD and she was actually the buyers Agent who purchased my home. It was a sale contingent on my purchase of another home. Susan was so helpful and knowledgable that I actually was able to get more questions answered from her than the Agent that I was using at the time. That was the moment that I knew that I never wanted to use another agent.

Susan sold that home for us and it was contingent on us finding home of choice back in 2005 and she literally drove me all over creation looking at homes that would suit our needs and never complained once that I wanted to look at 50 different homes and ultimately we couldn't agree on a home of choice so she was very understanding and wanted what was the best choice for us and took our home off the market.

In 2008, I worked with her on a rental agreement. In 2009, she helped me to obtain an awesome deal on a waterfront property which I am still currently living in. If I ever decide to sell this house and even when I have been toying with the idea, Susan is happy to provide me with comps and is ready to do whatever I want to do and advises me of the current market and her ideas on best timing etc.

She's a real diamond in the ruff and so down to earth that I am able to be comfortable and around myself around her. She doesn't judge and wants what is best for me. I can't help but love her! She's my agent for life.

Jim and Margaret

01/03/2014

"We can't say enough about Susan, and how helpful she was in helping us find the right house and the perfect neighborhood. If you're looking for an agent, she's fantastic.

And have no fear about calling her, she will not bug you with endless calls to push for a sale. She will follow your lead and listen closely to what you are looking for in a new home. We found Susan, to be patient, knowledgeable, and a lot of fun.

She treated us as though we were her only customers and kept us informed about new listings and homes that fit our list of particulars. She also has a great network of professionals to call on for just about any situation that you can think of through the entire search, purchase and move-in process."
Introducing a fresh new look for your Profile.
Click the 'Edit Profile' button below to enter 'Edit Mode' and continue the tour.