Nima Rezvan CT Lender CT Senior Mortgage Broker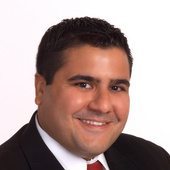 NMLS#110681
Mortgage and Lending
Nima Rezvan CT Lender CT Senior Mortgage Broker
First Time Home Buyer Expert - CT FHA Loans - FHA
Fairfield, CT

—

Nima Rezvan Prosper First Funding Corporation NMLS#110681
2465 Black Rock Turnpike
Fairfield , CT 06825
---
CLICK on Email above to contact me now! Specialize in helping First Time Home Buyers. Ask me for a complimentary mortgage pre-approval. Ask me for the CT Foreclosure list. Ask me if you can Refinance?
Get to know Nima Rezvan CT Lender CT Senior Mortgage Broker
EMAIL ME NOW: nima@prosperfirstfunding.com
Available on Cell, Email & Text Messaging until 9pm: (203)913.6016
Nima is a member of the Fairfield Chamber of Commerce and has been making home ownership dreams come true since 2002.  He has been a resident of Fairfield for over 30 years.  Nima is a first time home buyer specialist and also an FHA expert and is readily available to his clients/business partners.  He is always looking to build long lasting business relationships with local realtors, builders, financial planners and real estate attorneys.  Nima wants to be your exclusive mortgage professional for life.  In his spare time he is on a Fairfield Darts Team and enjoys playing basketball & tennis.  Nima also volunteers to raise money to find the cure for Alzheimers.
Nima Rezvan CT Lender CT Senior Mortgage Broker's Blog Posts
Lending / Financial
–

over 1 year ago
Lending / Financial
–

almost 5 years ago
Certifications
"Nima is a true professional. He Follows up, provides feed back, and explains the lending process in a simple and clear way to his clients. More importantly, he delivers what he promises with no surprises at closing. I will defintely recommend him to clients, friends and family." April 13, 2009
Top qualities: Great Results , Expert , High Integrity
Ed Villeda, Realtor, William Pitt Sotheby's International Realty in Stamford, Connecticut
________________________
"Nima provides excellent service which well exceeds expectations. He is always in touch with what is going on in the market and is always willing to share information to help others in the industry. You will be pleased with his service and the way he handles himself." April 7, 2009
Top qualities: Personable , Expert , High Integrity
Kimberly Camella-Roy, Realtor, RE/MAX Right Choice in Trumbull, Connecticut
____________________________ 
"My clients are happy with Nima's work he is consistent and reliable, I will recommended him any time." April 9, 2009
Top qualities: Expert , On Time , High Integrity
Ketty Daffron, Realtor, Century21 in Oxford, Connecticut
_____________________________
"Nima has been very helpful providing me with valuable real estate information." April 4, 2009
Lonnie Shapiro , Sales Executive , Prudential CT Realty
_____________________________
"Nima is an example of what it takes in today's changing economy to overcome tough obstacles. He has been weathering this economic storm when others in his industry had decided to give up. He has proven to be a top producer on a consistent monthly basis. He has the respect of his colleagues and the trust of his clients. Nima is a person that has a "get it done attitude" and always does his best to bring a project in on time." February 2, 2009
Nima's Top Qualities: Personable , Expert , High Integrity
Daniel Ranocchia, Realtor, Higgins Group of Shelton, Connecticut
_____________________________
"Nima:
I just wanted to thank you again for all the work that you did on my refinance.  I was told today that it funded.  You were professional, knowledgeable and helpful throughout what could have otherwise been a much more difficult process.  I thought you handled the numerous curve balls that the bank sent us well.  I look forward to working with you again in the near future. 
Thanks again."
- Charles K., Connecticut Attorney
 _____________________________
"As first time home buyers, we had no idea what to do. Nima was a great asset to us! He was so thorough and walked us through the whole process step by step. He was very informative and available to answer any of the numerous questions we had. Nima worked hard to get us the best rate possible and was so honest with us about our choices. He eased this very stressful time for us with his calm manner. We would strongly recommend Nima to anyone."
- Tara & Danny S., Homeowner
__________________________
"I have known Nima for almost 3 years and recommend him wholeheartedly because I know that he goes above and beyond for his clients.  He is a true professional and one of the most trust-worthy and dependable mortgage specialists out there!"
- Val Allocco, Founder & President, Staged 2 Sell NY
__________________________
"Nima is a good person and professional in the field of finance.  He is always looking to help, honest in business and very friendly." April 4, 2009
- Flamur Canaj, Realtor, Century21 Greengarden, Inc.
__________________________
"If you want a level headed, honest, capable loan officer, then Nima is your person! His attention to detail and follow-up is excellent, and that's just what is needed in this volatile market. I recommend Nima for your financial needs!"-Jane Walters, Realtor, Prudential CT Realty
_____________________________
"Nima Rezvan is shining example of a dedicated and detail oriented professional that will provide you with outstanding service all the way. As a business associate he is a dream come true and I am delighted to recommend him anytime!"-Sonja Babic, Realtor
_____________________________
"Nima was a pleasure to deal with. His rapid response, out of the box thinking, and commitment to customer service will make Nima my first stop for my real estate loan needs."-Jeff D., Homebuyer
_____________________________
"Nima came through for my client with only a two week window for a mortgage commitment. He was on top of the situation from start to end. I highly recommend Nima for any mortgage needs."-Andrea Toth, Realtor
_____________________________
"Nima always treated his customers with the professionalism and attentiveness needed in order to make sure the deal got done and all parties involved were satisfied. His above and beyond type attitude made him easy to work with and made my job a lot easier. You always knew where you stood with him, his honesty and knowledge of the products and programs was refreshing."-J. George, Sr. Loan Coordinator
____________________________
"Nima is the type of financial advisor who will not stop until he can make the numbers work for you. He's not just interested in getting loans and saying "next", Nima feels a sense of satisfaction when everything works for his clients. As a colleague he is one of the first people I would call in a bind. On a personal note, Nima is a true gentleman."-Luke Constantino, Realtor
_____________________________
"I have known Nima Rezvan for approximately 6 plus years. I first met Nima at one of my Real Estate Public Open Houses. I took a liking to him due to the fact that he was very well dressed in a business suit. Was a true professional and new what he was talking about when it came to the financing of loans. I then asked him to work with me on some open houses and we worked well together. I always recommend him to everyone. I have never had a bad experience with him or his work. I strongly recommend Nima to people/clients who are out there looking for a loan. When Nima gets a referral he is sure to stay on top of it and call the client until he gets results. Nima is definitely at the top of my list."-Maria Miller, Realtor
____________________________
Dear Nima,
We'd like to thank you for all your help throughout our refinancing process.  We enjoyed working with you because of your adminrable working ethics and charm.  Thanks again!
- The Dioses Family
(Norwalk, CT)
_______________________________
When I was discussing refinance options with my mother, I referred her to Nima. I knew he was energetic and dedicated to his job. I knew he could get her what she needed at an outstanding rate! Nima was always available to help. I will refer other friends and family to Nima Rezvan in the future!-Becky H.(Fairfield, CT)
______________________________________
"I refinanced my mortgage with Countrywide Home Loans and I want to Thank You again for all of your help! You made, what I thought was going to be a very difficult process go so smoothly. You were very fast and efficient in helping me daily with the documents that I needed. You kept me smiling and composed from the very first day that I called you until the closing about two weeks later. I hope that you stay in the business forever and with Countrywide Home Loans so that I never have to seek out another Home Loan Consultant again. It's a comforting feeling knowing that if I need to make any changes at all, you are just a phone call away! Thanks Again Nima!"
- Michelle Olson
 (Fairfield, Connecticut) Town of Fairfield
_____________________________
"Nima was great to do business with. I bought my first home and he was there from the start to finish, answering any questions I had. I'm planning to buy another house in the future and will definitely call Nima when the time comes. I would recommend him to all first time home buyers and my friends." - Jasmine F. (Bronx, New York) I Love The Bronx!
______________________________
"I have had the pleasure of working with Nima for the past 15 months where he helped me to achieve the purchase of my first home. Nima is incredibly personable and made me feel comfortable asking any and all questions, which he answered extremely quickly and in great detail. I was so pleased with his service that I am currently returning to refinance, and will continue to return to Nima for all of my future lending needs, and will also continue to recommend him to friends and family." - Melanie K. (Southbury, Connecticut) Southbury, CT
______________________________
"Let's face it, when it comes to something as big and as important as purchasing a home, going through the financial process can be one of the most traumatic experiences there is. It was fortunate, then, that my wife and I happened upon Nima Rezvan of Countrywide Home Loans. From start to finish, Mr. Nima Rezvan worked tirelessly to meet our needs, even going so far as to connect us with those people who could help us clear up erroneous errors on our Credit Report. Never have I met anyone who answered so many questions without complaint and with a rapid turnaround. Being first time homebuyers, besides answering the myriad of questions asked, sometimes it was just the needed reassurances that the process was moving forward, or that things were being done that meant a great deal to us. In short, Mr. Nima Rezvan was always available. Thank you, Nima. You helped make the dream of owning a home come true for us." - Ray and Andera LeCara, Jr. (Bristol, Connecticut) City of Bristol, CT - Home
____________________________
"I would be very happy to refer new customers to you. You were always efficient and thorough in answering my questions. Still have a few boxes to unpack but am very happy in my new home. Thanks for all of your help!" - Karen F. (Stamford, Connecticut) The City of Stamford, CT - Home
______________________________
"Nima found the perfect mortgage to meet our needs. He answered every question, found us a great interest rate, explained all the paperwork, and referred us to an excellent Real Estate Attorney"- Tina Panik (Farmington, Connecticut) Town of Farmington
_____________________________
"I used Nima when I purchased my first home. I was nervous with the entire process. Nima put me at ease with obtaining the mortgage, and even helped with a lot of advice for getting the home I wanted. I would definitely recommend Nima to anyone purchasing a home." - Marc H. (Milford, Connecticut) Welcome to Milford CT
_____________________________
"Nima Rezvan has been a pleasure to deal with. It is not often you're able to deal with someone as professional, as organized, and as thorough as Nima. Nima knows the real estate financing business and how to find the right mortgage product for any customer's situation." - Jeffrey D. (Bridgeport, Connecticut) Welcome to the City of Bridgeport, Connecticut
_____________________________
"I can't say enough about Nima!! He handled a refinance for me. He was professional, honest and took good care of me. He did whatever it took to get me exactly what I needed. No wonder he was awarded the 2005 Rookie Of The Year Award, I will (and do) recommend him to everyone. I love the Mortgage Man!!!"- Carla R.(Naugatuck, Connecticut) Naugatuck Connecticut
___________________________
"He got me my first loan and did it quick! I'd use him again for a mortgage. My realtor was so impressed that he now recommends him for mortgages from Florida. Nima is definitely Mr. Mortgage Man!"- John Nicholas (Delray Beach, Florida) The City of Delray Beach
_____________________________
"Nima is a rare find. In my business, I meet with professional people everyday. However, I have yet to deal with someone as dedicated to his work as Nima. I would recommend Nima to my clients and family alike."- Daniel Loft (Fairfield, Connecticut) Coastal Fairfield County
____________________________
"Nima was referred to me by my best friend. I was very nervous about the whole home buying process because I was a first time home buyer but Nima made it simple for me. I bought my condo in Florida with ease. My realtor was impressed with him and he is referring his Florida clients to Nima. I would recommend Nima to my friends." - Tassos R. (Fairfield, Connecticut & Tampa, Florida) City of Tampa  
____________________________ 
Feel free to check out all of my client reviews on Zillow, Trulia, linked-IN, Facebook, etc.
Introducing a fresh new look for your Profile.
Click the 'Edit Profile' button below to enter 'Edit Mode' and continue the tour.