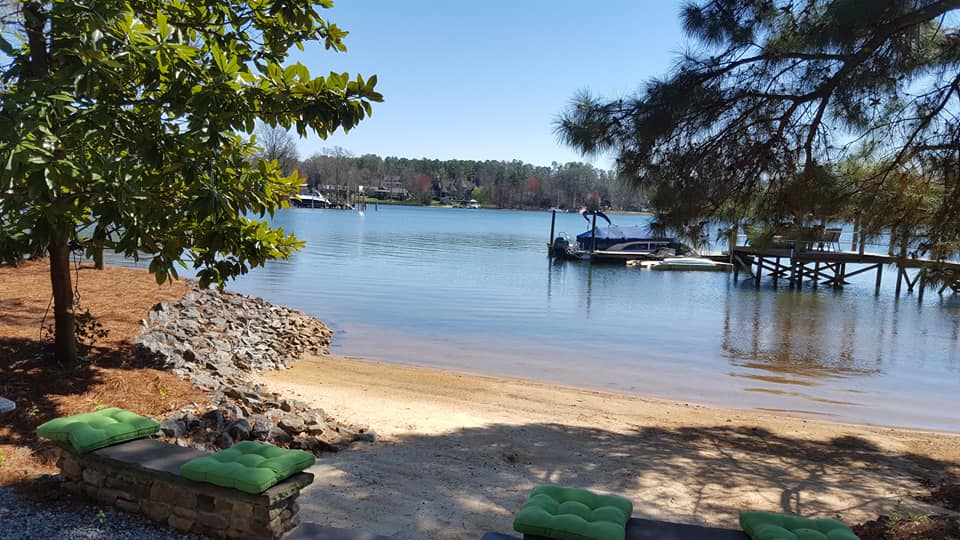 Get to Know Eloise Morano
I have been helping people find property on this beautiful lake for 14 years, and I still love it like nowhere else I have ever lived.
I grew up with parents who were transferred often. They always let me participate in the real estate side of relocation, which got me interested early. As an adult, I was an on-air journalist, writer & photographer - for radio, TV and print, & moved more than a dozen times. I always took the pictures for the Realtors I hired. It always got the house sold fast!
The first thing I did in moving to Lake Norman was do virtual tour photography for several large real estate developments. It was one of those that sent me to real estate school so that I could also sell their properties.
My journalism past gave me the gift of asking questions, listening, & meeting deadlines - all of which are critical in the increasingly complex world of purchasing real estate. I have bought and sold 9 homes of my own & built two. Moving & relocating is complex: I have been there, and I can help. With my husband/real estate partner, Matt, I have lived at the lake 16 years, loving every minute of our lifestyle.
Whether you are selling your home or buying, I will do my utmost to keep it simple, and to treat you like family.
Lake Norman is 32,500 acres of water, surrounded by beautiful lakefront neighborhoods, spectacular golf, elegant shopping and the charming village atmosphere of Cornelius, Davidson, Huntersville & Mooresville. Each with character all its own, from 1890's cotton warehouses transformed into galleries & restaurants in Mooresville, to the charming college town of Davidson, founded in 1837.
All told, it's a place where you can enjoy the benefits of doing business in one of America's most dynamic metropolitan areas, close to an international airport, yet still find countless reasons to kick off your shoes & ease into your flip-flops.
Whether you are downsizing, 'right'sizing, relocating, or selling, I will do my utmost to make it as easy as possible, & to treat you like family.
Certifications
Our company specializes in properties on or near Lake Norman, within an easy commute to Charlotte. We offer friendly, one-stop shopping for homes and land. Whether you want to live in Birkdale, The Point, The Peninsula, Blue Stone Harbor, Northview Harbor, Falls Cove, Sailview, Pebble Bay, Westport, Smithstone, Cowans Ford, Verdict RIdge or River Run -- we list and sell property there. We specialize in waterfront homes, golf course homes, and custom homes of all kinds. In fact, if you want to build any kind of custom home, we will find you land and recommend builders whose work we know well.
Skills
I have an MA in Landscape Design from Chatham University. I can offer valuable suggestions for your new home's landscape shrubs and trees.
George S.
08/15/2017
Our experience working with Eloise was, to say the least, simple and thorough. She was extremely helpful when meeting me on a weekend to look at property around Lake Norman, with complete listings for all the properties that we were going to see that day. Once we decided to put in a contract, Eloise did a wonderful job getting us through the diligence period, to and through the close. Since we were closing the transaction remotely, she went out of her way to get us some additional information related to the property, dock, and utilities that was totally appreciated since we were unfamiliar with the entities to contact. If you are looking for someone with a vast knowledge of the area, quickly picks up on what you are looking for, and will be truthful and honest with you regarding everything, then you will be hard pressed to find anyone better than Eloise!
Stephanie M.
06/30/2017
Eloise has been fantastic. She sold two properties for me quickly and for a great price. She also helped me find a fantastic new home. She's a joy to work with and is extremely knowledgeable.
Wendy L.
08/20/2015
We decided on a family move from three different states in order to coalesce around my aging parents' health care support and needs and focused on Mooresville/Iredell County area. My Parents, siblings and I had very different family and housing needs, not to mention timelines and budgets. Eloise Morano & Lake Realty made it happen for us seamlessly. She helped my brother and family identify a new construction neighborhood and builder close to his relocated business, found an ideal existing move-in ready house one street over for my parents who needed to have all their main living on the first floor and needed to be close to medical care and shopping as they don't drive much. My needs were much more specific for my partner and myself and Eloise found the perfect house on the lake that met and exceeded all of our expectations. All of this happened within one year of the group decision to move! The time, effort and attention to our personal needs that Eloise put in were phenomenal and made what could have been a very complicated and stressful situation go seamlessly from housing search to closing. I highly recommend Eloise & Lake Realty!
Kerns Family
10/07/2013
Mon, Oct 7, 2013 Eloise was awesome through this process, and went well above and beyond to help my family buy property on Lake Norman. We do not live in the area, and when I asked her to check out this location for us, she even rode a jet ski over so she could see it from the water as well. She helped us coordinate with some of the local contractors, even meeting them to get things done when we were unable to. . Thank you Eloise!!! Kerns Family
J. Summers
10/05/2013
I usually avoid giving the very highest ratings because in real life, the very highest and the very lowest scores are tossed as unrealistic. In this case, however, I do not hesitate to give the highest score to Eloise. Hear me out on this. Her Broker assigned me to her after I was cruising around on the web for Lake Norman properties. I had just listed my home near Holden Beach, NC and was interested in the Lake Norman area. She got in touch with me right away. We talked at length about my wish list for a new home. She was very responsive and always either answered my calls or returned them within a short time....big thing with me. I made plans to visit the area. She prepared several showings meeting the criteria that I had shared with her. I actually found a couple that would work great for me. Well, several months later and all the while, Eloise kept in touch. All the homes I saw were sold and I got a contract on my home at the beach. I called her and told her I needed to make a whirlwind trip to see homes again She again found us homes to see. I had chosen several to see. There was one that appealed to me as I scanned them online. Indeed, it was the third one we saw and bingo...we went back to the office, wrote up the offer, we negotiated, went to contract. The home inspection has been done, remedies will be done in a couple of days and I am as "pleased as punch"! YES!!! If you read this and don't hire Eloise Morano as your Realtor...you're not looking for quality and heart, all in one package. Happy Client, Ms Summers
format_quote
I love matching people with a home - especially people relocating here, the way I did. I will navigate you through the process of finding & buying your new home with warmth & humor.