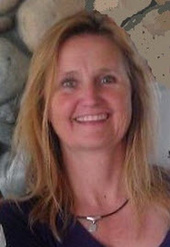 BR645447000
Real Estate Agent
Elise Harron
Rural Vacant Land and Development Specialist
Kingman, AZ

—

Dirt Road Real Estate
I LOVE rural properties, I am Northern Arizona's Rural Property Specialist. Survivalists, Retirees, Homesteaders, Ranchers and Family & Executive Rural retreats... call me - I speak your language.
Get to know Elise Harron
I did not set out to "become" a rural land specialist... I realized that I AM a Rural Land Specialist, and then I BECAME a Realtor!  So I already understand the costs and hurdles of changing a rural piece of land into a homestead, a farm or an escape property.
I have 18 years of experience building some of the largest Master Planned Communities in Las Vegas, Nevada.  I am coming home to Arizona and bringing all that information along with me.  I have built Custom Homes up to 13,000 sqft.  I have programmed smart home technology in those same homes.  I have installed 5kW to 10kW grid-tied Solar Systems.  I have installed 2kW 700ah off-grid Solar Systems.  I have managed numerous small businesses and investment properties.
I love the outdoors, all animals and hate many snakes.
I do not like frilly or girly, but I LOVE travel, new experiences and meeting people.
I'm a little straight-forward.  But I VALUE different opinions and points of view - I grow from listening.  I learn something new EVERY day!
I don't want it to feel like "work" anymore - I want to drive around visiting with my new friends and neighbors, finding them the perfect property and providing them with a near perfect Escrow and Closing.  Being a realtor does NOT qualify as work for me.  Let's see, I get paid to drive around to rural properties visiting with lots of new and unique people, I get the excitement of locating just the perfect property and presenting it like I built it myself from scratch, and see them smile as they have finally found "the ONE."  Nope, that isn't work in my book!
Elise Harron's Blog Posts
Real Estate Industry
–

over 1 year ago
Real Estate General Information
–

over 1 year ago
Home Improvement
–

over 2 years ago
Just for Fun
–

over 1 year ago
Certifications
A home is something that most of us are very familiar with.  When we are shopping for a new one, we are educated enough by life  to know that we want to make sure the heating and cooling works, the electrical is safe and functional, the foundation of the house is solid and that there is clear title.  Each of these things is important and are, in the main, common sense.
With Land, not many people know how many little things to look for to make sure you have a very good investment.  Starting with the soil and the potential to be able to build on the property.  Is there water if you go thru the expense of digging the well, and when you reach water is there a chance that it will be contaminated or will it be good to drink.  Can you build an alternative home on the property or are you restricted to only a log home or site-built home, no modulars allowed.  Do you know how to ferret this out or would it be wise to employ an agent who already knows the things to look for.
Who has the right to use your land?  In Arizona right and but in some areas the rancher has more rights to your property UNTIL you put a proper fence around your land.  Did you know the definition of a "proper fence"?  You can't find it by googling "proper fence", but your Vacant Land Specialist should be able to recite it without looking it up.
What can you build on your land?  How much are your taxes on this land?  Who can assess taxes against your land?  Are there easements crossing your property?
Now I would not expect many of these to POP up on one single piece of property, but how disappointing to buy your perfect piece of land and dream about your earthship home only to find out after starting construction that it is NOT ALLOWED in this area.  I know someone who lived through that - very dissapointing and expensive after purchasing and then having to sell and paying fee's both ways.
Call an expert.  You don't go to your favorite baby doctor for your adult ailments - why would you use your favorite Housing realtor for your Land transaction. 
Always employ the best you can find.  A truly brilliant man does not need to know everything, but he needs to surround himself with people who do know everything.  An expert for each trade. 
Skills
Site Development, builder, dealing with land issues, navigating and walking rural property
Testimonials for Elise Harron
James Rochester

08/29/2013

Successfully selling real estate might be common these days but successfully selling remote, off-grid and undeveloped land away from major development takes commitment and dedication to your job and to your clients. Elise is exactly this type of successful salesperson and more. She worked very closely with us during the selling of our land and kept us informed and well-advised during the entire process. We would highly recommend Elise to anyone looking to sell their house or property.

Introducing a fresh new look for your Profile.
Click the 'Edit Profile' button below to enter 'Edit Mode' and continue the tour.