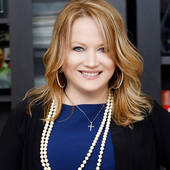 RS280774
Real Estate Agent
Dionne Malush
Realtor/Investor/Author/Owner
McMurray, PA

—

Realty ONE Group
Full Time Realtor in Southwestern Pennsylvania focusing on Residential Real Estate. Over 75 homes sold each year. Would you like to know what the odds of selling in your neighborhood are? Call today!
Get to know Dionne Malush
Dionne has more than 20 years experience in graphic design and has now added Real Estate to her capabilities. She is a 1989 graduate of the Art Institute of Pittsburgh and has successfully owned and operated a graphic design promotional company since 1990. 'I started my full time real estate in 2005 and have many years of business experience in Pittsburgh and surrounding areas. My main concern is to be of service to you, by listening and really hearing what your wants and needs are. I truly care about my clients.'
Starting her real estate career in 2004, Dionne realized that she could utilize her skills as a designer when servicing real estate listings. The marriage of the two trades enables her to help your home or business sell more efficiently and more creatively. Dionne believes in the team concept and knows that her team can provide you with hassle-free service. we offer a 1 Day Listing Guarantee that is like no other in the Pittsburgh area.
Dionne's creative side really flairs with the representation of the Seller in the real estate transaction, her pricing strategy has helped her last 6 out of 7 transactions sell within 30 days. She is focused on making sure that the home sells quick and for the best price. She is educating herself to put her in top producer status.  Dionne is also the co-author of the rapidly selling book, "The New Rise In Real Estate".  In this book, you find out what makes the best agents so successful!
'I work extensively with relocating buyers (with the help of her buyer's agent), helping them find appropriate living arrangements in their new locale. You will find me to be a careful listener, a sage advisor, a shrewd negotiator and to be very familiar with what is currently happening in the real estate market. I approach each transaction with dedication, integrity and a sense of humor. I work in partnership with each client to ensure his or her success.'
She is an Accredited Buyer's Representative, an Accredited Sellers Representative, Council of Residential Specialist and a Mature Moves Specialist. Dionne resides in the Belle Vernon/Rostraver area and is willing to travel to be as competitive as she needs. Marketing works everywhere.
As your professional realtor my mission is to dedicate myself to making the process of buying or selling your home as easy and satisfying as possible, I will at all times respect the needs of each and every client I am commissioned to work for, I will remain honest and forthright and will place your best interest in the highest regard throughout the process of our transaction. I will order to be a more effective realtor for my clients, I will strive for excellence at all times.
What it takes ...
I know the neighborhoods, schools, market conditions, zoning regulations and local economy. I'll do the leg work, keeping you up-to-date with new listings and conditions as they impact the market. I'm a full-time real estate agent - anything less and you'd be short changed. I'll use my connections throughout the mortgage industry to get you the best deals possible. You'll be my only client in the real estate transaction. I'll guide you through the complexities of buying and/or selling a house, eliminating hassles and stress. As a standard business practice I preview homes as they become available, keeping you apprised of market conditions as they evolve. I won't waste your time - when an offer is made, I'll require acceptance or a counter offer within 24 to 48 hours. You'll have the advantage of personal, one-on-one attention, as well as my dynamic web and e-mail resources. I also feature your home on the #1 real estate website in the world, www.zillow.com and the #1 real estate website in the Pittsburgh area, www.ViewPittsburghHomes.com I am continually training to become as knowledable as I can in this industry. I have received my CRS (Certified Residential Specialist) Designation and also have my ASR (Accredited Sellers Representative). I have already received my ABR (Accredited Sellers Representative) and ASP (Accredited Staging Professional). I train for 1-2 hours each day. I love teaching agents how to grow their business and am a follower of Napoleon Hill (author of Think and Grow Rich). My company site is www.DionneMalush.com for information about being a part of this positive environment.
Dionne Malush's Blog Posts
Home Buying
–

almost 5 years ago
Home Selling
–

almost 5 years ago
Home Buying
–

almost 5 years ago
Home Selling
–

about 5 years ago
Dionne Malush Realtor
Commercial created by Darieth Chisholm ... Hustle and Heart TV
Certifications
LISTING YOUR HOME ... As a professional graphic designer prior to my real estate career, I understand the importance of marketing and the role that it plays in our life day-to-day. I will market your home properly and help to position it to the right buyer. . We can work with you to price your home strategically by doing a detailed Equity Evaluation that helps you to see the competition, time on the market and the saleability factors of your home.
If your looking for an agent and they do not offer these services ... maybe you should call someone that does. Don't settle for any agent ... find a Real Estate Agent that is passionate and dedicated ... like me! I am a co-author of The New Rise in Real Estate. If you are interested in recieving a copy of my chapter, let me know.
Awards
For her efforts, Malush has achieved the prestigious Centurion Award from her 5 years at Century 21 Frontier. She was ranked in the top 1% in sales at Coldwell Banker Pittsburgh over 1,000 agents, in 2014 was the #9 RE/MAX agent in Western PA. In 2015, Dionne was the #8 Northwood agent in the entire company. She sold 74 transactions. Dionne was the #8 Northwood Agent in the Pittsburgh area in 2015. Dionne, personally, sells between 60-75 homes each year. Dionne is a co-author of The New Rise in Real Estate, a book that has reached #1 on Amazon.com's 2012 Best Seller List. She also published "25 Tips for Selling a Home in Pittsburgh". Currently, Dionne is training and masterminding with Bravo's Million Dollar Listing Agents, Josh Flagg from Beverly Hills and Fredrik Uklund from New York City learning their techniques to compete in the luxury real estate market. Dionne Malush is offering FREE professional photography when listing a luxury home in the area. She is also a Certified Home Selling Advisor and was voted in the Top 500 Marketers in the US and Canada.
Skills
Professional Graphic Designer
2016 President of Southpointe BNI Connections
Testimonials for Dionne Malush
Alexis and Jeremy Oslowski, Donora

01/04/2017

My husband & I absolutely loved working with Dionne! Although our time was short, but that's only because she made sure everything went smoothly. She was always available to answer any questions we had, which we appreciated being first time home buyers with no idea what we were doing! Even now she still contacts us just to follow up & make sure we are doing okay. Home buying is one of the biggest things if not THE biggest thing we will do in our life together and I'm so happy we trusted Dionne!

Carol A. Briney, Pittsburgh

11/24/2016

Dionne Malush is one of the best real estate agents in Pittsburgh if not THE BEST! She is knowledgeable, attentive and has exceptional negotiation skills. If you want good advice so that your house sells quickly or if you want a top notch person to help you buy, Dionne is your lady.


Bryan, Rostraver Twp

05/02/2016

Dionne has helped me buy 2 homes and sell one. She has always been extremely knowledgeable, passionate and professional so I even recommended her to help my brother and sister each buy homes so my whole family loves working with her!


Kelli Geswein, Beth Center

04/15/2016

Excellent! Dionne is such a friendly, relaxed realtor. She was very accommodating and patient while were searching for our 1st home together. Highly recommended!!!


Rachel Barsotti, Pittsburgh

01/08/2016

What can I possibly say about Dionne? If you're looking for a true professional Realtor, Dionne is it. Dionne is not only passionate about what she does, but she has mastered her profession. In addition to being a professional, she is just an all around awesome human being. She inspires me on a personal level! You can rest assured that when you work with Dionne she truly cares about you, your needs, and the needs of your family. You will be in good hands with her and her team.


Gemma and Carl Carlson, Baldwin/Whitehall

06/11/2015

My husband and I had our residential property listed with another agent for over a year. A friend of mine sent me an article about Dionne Malush and her outstanding achievements, so we contacted her. After signing documents and listing our residence with Dionne, the property sold within a week. Dionne was always available, whether by phone or via e-mail and would promptly respond in a timely fashion. Dionne conducted herself in a very professional manner and yet we felt as if we had known her for a long time. She uses state-of-the-art professional pictures of the property, and we were able to use a computerized feedback system on line she provided. After the sale of our residence, we enlisted Dionne's services as our Real Estate agent for a rental property we owned. The property sold quickly once again. We are so very pleased with Dionne that we would recommend her to anyone who is looking to have a realtor who looks out for your best interests. Dionne is that Realtor!

We so enjoyed sharing dinner with you last night after closing and getting to know you better. We appreciate all your HARD work. This should have been easier, but we are happy and hope the new homeowners enjoy their new home. Keep in touch, I really feel like you are a friend and I will recommend you to everyone I know!

Pam & Tim Galiotto, Fallowfield Twp

06/05/2015

This was our first involvement with a real estate agent and we were not disappointed. From the moment we spoke she presented superb professionalism, knowledge and ease to consult. She has excellent insight of presentation and pricing. With her years of selling experience she directed a swift and error less sale. Our home was on the market for only 5 days before encountering a price war. We tell everyone we meet to contact Dionne when they are considering a home sale because she has a confidence-of-sale the moment she enters your space.

Denny and Bobbie Matteucci, California

05/18/2015

My husband and I tried to sell our home with and without agents. We were not successful. We always felt that the agents could have been doing something more than just putting an ad in the paper. We rarely heard from them and we always had to call to see what progress was being made if any. Our beautiful home languished on the market and we were getting more and more frustrated. After the last agent's time was up we were very discouraged. We thought we would never sell. One day we received a postcard from Dionne Malush. She wrote that she would do everything she could to sell our home. She said that she had a great track record and that she had access to the latest techniques. She was extremely confident that she could and would sell our home. We thought we had nothing to lose so we called her. Her enthusiasm at our first meeting was contagious. She had plans and ideas. She told us about all the different things she could do to get our home "out there". She called, emailed and texted us often and kept us abreast of everything she was doing. She made us feel like selling our home was the most important thing she had to do. And she did it! She sold our home! Just like she said she would! If you want to sell your home don't wait for her postcard. Call her.


Wendy Ross, Belle Vernon

05/13/2015

She was the best! I was blessed to have her recommended to me and I would do the same to anyone else and I actually have a few times.


Pam and Terry Barkey, Brentwood

05/12/2015

I remember contacting Dionne to see a listing. She called us back right away. Unfortunately that property was already sold. She recommended one in Belle Vernon, but it didn't have that " wow" factor that the first one did. Later on in our home search my husband found the one that we ended up getting, but he found this one by mistake, and we both fell in love with it. It must have been a sign because she was the listing agent on the home that we purchased. Not only did this home have the "wow" factor, but everything our family could ever want and more. Dionne is very professional, knows real estate inside and out, and goes out of her way to help her clients. She is going to be our agent for the home we have to sell. So no pressure Dionne, but we need our house to sell ASAP (lol!) I'm sure she will do an outstanding job. We look forward to working with her again.

Introducing a fresh new look for your Profile.
Click the 'Edit Profile' button below to enter 'Edit Mode' and continue the tour.