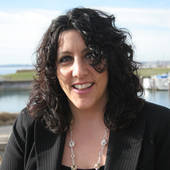 Education & Training
Denise Lones
CSP, MIRM, CDEI - Real Estate Coaching & Branding
Bellingham, WA

—

The Lones Group, Inc.
We are a real estate agent coaching and branding company. We specialize in helping agents and brokers succeed with expert training and beautiful, memorable marketing. Learn more at thelonesgroup.com
Get to know Denise Lones
About Denise Lones of The Lones Group
Denise Lones' background in residential Real Estate sales and management boasts an impressive list of awards and recognition for her outstanding marketing and business development systems. During her sales career, she was consistently among the highest-producing Realtors in her market. During her management career, she was instrumental in helping companies reach their maximum potential financially and personally. As a consultant to the building industry, she has been responsible for helping builders dominate over their completion in an aggressive market. As a trainer, she has helped agents double and triple their business.
Denise has helped brokers and managers build their business to levels previously never reached. Her training techniques work and her business consulting is thorough and effective.
As a speaker, Denise is accustomed to speaking in settings from one-hour group tele-coaching calls to day-long classes of hundreds of people in groups. Her style has been described as entertaining, yet highly informative. People tend to come again and again to hear more. She was awarded the Instructor of the Year award in 2004 by the Washington Association of Realtors.
Denise is a certified instructor for:
The Washington State Department of Licensing National Association of Home Builders The Master Builders Association Bellevue College The Washington State Housing and Finance Committee The Washington Association of Realtors Portland Home Builders Association GRI Technology Instructor National CSP Instructor
Her product line includes the 36-Point System, The Complete New Agents Training Program, The Pricing System as well as a complete "How To" line of topics.
Denise was the only person in Washington State in 1999 to be awarded the prestigious MIRM designation from the National Association of Home Builders in Washington, D.C. Denise's passion is helping others to reach their full potential:
"The key to success is all about people, systems, follow-through, and ...taking action!"
About The Lones Group
The Lones Group's customer care team is available to supply a variety of Denise Lones training supplies and systems unique to the business industry and specifically to those in Real Estate, including the key "36-Point System," "The Complete New Agent's Training Program," "The Pricing System" and a number of "How To" educational and motivational classes. The design team can work with you to create memorable marketing pieces as part of innovative marketing systems that go beyond the initial identity items offered by many competitors. We offer a range of packages in different price ranges and our pieces include identity tools, home marketing tools, event-driven tools, book covers, technology tools and follow-up tools.
See how the Zebra team can work with you from start to finish -- design to printing!
Denise Lones's Blog Posts
|
Real Estate Best Practices
–

9 days ago
Real Estate Best Practices
–

6 days ago
Real Estate Best Practices
–

27 days ago
Real Estate Best Practices
–

23 days ago
Real Estate Industry
–

9 months ago
Real Estate Best Practices
–

8 months ago
Real Estate Best Practices
–

4 months ago
Real Estate Best Practices
–

10 months ago
The Lones Group - Real Estate Coaching that Delivers!
Testimonials from our awesome clients!
Certifications
Expertise. We have the expertise to meet the needs of those in the real estate world. Our President Denise Lones has more than 20 years in real estate as a trainer, an agent, and a broker.
Experience. We have top designers who have produced hundreds, if not thousands, of marketing pieces for our satisfied clients.
Care. We care about our clients and want to produce business analysis, reports, training, and marketing that will improve the way that you do business and solidify your position in the business world. Love. We want you to absolutely love what you get - and use it as a mainstay in your business.
Value. Our pricing is commensurate with the experience we bring and competitive with the market. Communication. With our products and services we want to listen to what you want - and give that back to you. In the last year we have listened to our clients and implemented suggestions to streamline our system to be more effective and efficient to better meet your needs.
More Value. While many companies produce a few stock pieces in a package, we produce packages of identity, follow-up, buyer and listing presentations, and so much more.
Fast. We have an online gallery of fabulous designs for those who want a new look - and fast. The Instant Image Design Gallery simply needs you to provide your photo, logo and contact information. It's that fast and easy.
Stand out. Hire the Zebra company that knows how to position itself - and you - to Stand Out in a crowd. Why? Why wouldn't you want to hire the firm that is small enough to know you, large enough to handle the load, has the expertise and experience to know what you need, the ability to hear what you want?
We are also the home of the Club Zebra real estate education portal and hosts to regular "Safari" real estate coaching events. To sign up for the free weekly Zebra Report with helpful hints, tips and great savings of the week, visit our website at www.thelonesgroup.com.
Awards
2004 Instructor of the Year, Washington Association of REALTORS®
2011 Top 100 Most Influential Real Estate Leaders, Inman News nominee
Columnist for iSucceed.com, Realty Times, RealTown, Broker Agent Social, NAHB and the Washington Association of REALTORS®
Testimonials for Denise Lones
In today's extremely competitive environment, it is imperative to advance yourself through education and action. The Lones Group has been overwhelmingly the best thing I have ever done for my business. Their systematic approach to broker advancement is unique because every broker is unique. They helped me analyze my personality and applied a customized blueprint that allowed me to be myself. I didn't have to fit in another coaching program's box. I was my own box and I realized there was nothing wrong with me. In fact, they continue to help me chip away at the "Michaelangelo" inside to help me uncover that truly great service provider. As a result, my clients are becoming raving fans and I'm beginning to enjoy the financial freedom and lifestyle balance that has evaded me in the past. Do yourself a huge favor. Hire them. Do what they say. You'll get the results you are after.

George Ilgenfritz

02/11/2013

As a former high school principal, I get great pleasure watching outstanding instruction. Your class was well organized, highly informative, practical, and full of strategies designed for immediate application. Needless to say, I have already put the course to good use with my last three listing appointments.

I look forward to your courses in the future.

This is how we stack up in our market... I had to brag a little... The Edge class and motivation you guys bring our group has A LOT to do with these numbers! Thanks!

Ellen Hartzell

12/05/2012

I got the listing with the CEO, he listed right then and there. Piece of cake. I had my agenda, ratios and marketing materials, positive attitude and "you" in my back pocket!

You are an amazing group of people, and I feel so blessed to be a part of Evolve.

Just want you to know how much I appreciate you and thank you, so much, for all the wonderful things I've learned from you over these five years. I so often think of you and find myself saying "what would Denise say". I love your confident personality...I gain strength being around you. Seeing you yesterday reminded me, again, of what an impact you have made on my successes.

In working with Lones Group Staff or attending presentations by Denise Lones, I have found a high degree of professionalism and one of high ethical standards. In a Marketing Makeover, they provided me with current up to date materials that set me apart from other agents, especially in the "Branding" concept. Their intimate knowledge of the marketing necessary to be successful in Real Estate has been a tremendous help to me. The staff is very professional, courteous, well qualified and responsive to any requests.

Denise Lones professional presentations are unique in providing a high caliber work product with marketing insight and trend assessments. Denise has her pulse on Real Estate and can present Real Estate economics and statistics in a manner that brings enthusiasm and actions instead of sleep in a conference setting.

My Dollars spent with the Lones Group has been one of the best investments I have made in my marketing efforts.

Cheryl Steffen

06/10/2010

I just wanted to let you know that I received a big compliment on the buyer's package. Though I work with a lot of clients that have purchased homes before, you would think that they would understand the entire process. Well, this couple I met with this past weekend received the buyer's packet. They raved over the information about how the agent's commission is paid out. They had purchased property before but never sold anything so they had no idea. Mr. Buyer is an engineer and found the packet very helpful and very professional.

Carolyn Hanson

06/10/2010

I met Denise when I was a 4 day old agent when she talked about having little puppies that she coached. I thought I want to be one of her puppies and 4 months later I became one. She is awesome. She is perceptive, she read body language, and she can tell me what I am doing when I don't even realize what I am doing. Presently once a month instead of phone calls we meet in person for role playing which has been the most helpful experience ever. I feel like I have learned more from Denise in 8 months than I could have learned in 8 year on my own.

GUESS WHAT?!?! I took a floor call this morning, went and showed these people a beautiful water front house – they needed a tape measure…I had them covered. Then, they came out to my car to get a buyer book and they saw the ZPack and said, "We are already SO impressed with you! You are SO organized!" wife looked at husband and said, "We don't need to meet with that other agent, do we?" I called my husband and said, "OMG! They are Magic! Day ONE and I got high-end buyers! "

Introducing a fresh new look for your Profile.
Click the 'Edit Profile' button below to enter 'Edit Mode' and continue the tour.