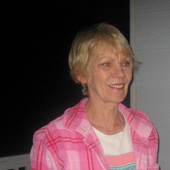 Services for Real Estate Pros
Marte Cliff
Your real estate writer
Priest River, ID

—

Marte Cliff Copywriting
From web pages to agent bios to prospecting letters and more... I write the words that show why YOU are the agent to choose.
Get to know Marte Cliff
Marte Cliff is a real estate copywriter with a past – in real estate.
She worked for various real estate brokers for 9 years, then became dissatisfied with "business as usual" and became a broker herself. She opened the first woman-owned real estate agency in town, with only one agent. That agent, another woman, was fresh from real estate classes.
Other brokers vowed to have her out of business in 6 months. Instead, within 2 years, her agency was responsible for more than 50% of the closings in her area. That was with 5 competing agencies plus a handful of "out of town" agents working the area.
What led to their success – along with customer service – was marketing and follow-up. After reading books and magazines about real estate marketing and then attending two NAR National Conventions, Marte was filled with real estate marketing ideas. She put them to use, beginning with the first announcement to the team's spheres of influence.
Nine years into being an owner / broker, when her agency was one of only 3 remaining in the City of Priest River, Marte realized that her favorite part of the real estate business was marketing.  That's when she sold the agency and turned to real estate copywriting full time.
To sharpen her skills she studied copywriting through AWAI and twice attended their copywriting conference in Florida. She now stays sharp by reading a variety of newsletters from top copywriters around the world.
She also stays on top of what's happening in the world of real estate. Reading Active Rain posts, setting "Google alerts" for new information on laws and lending, and talking with agents all over the country keeps her up to date on the challenges real estate agents face in this troubled market.
Marte occasionally writes for other businesses, but the majority of her time is spent writing for real estate agents and others who are connected with the industry.
When not writing, studying, or reading mystery novels, Marte enjoys being outdoors – working in her garden, walking with her dogs, or taking pictures of nature. She and her husband live on 20 secluded acres with plenty of opportunities for wildlife viewing right outside the windows. She loves the lifestyle, but has one regret: No high speed Internet. She has to be content with satellite service.
Marte has two wonderful sons and a beautiful grand-daughter.
Marte Cliff's Blog Posts
|
Real Estate Sales and Marketing
–

1 day ago
Real Estate Sales and Marketing
–

28 days ago
Real Estate Sales and Marketing
–

about 1 month ago
Real Estate Sales and Marketing
–

5 months ago
Real Estate Sales and Marketing
–

9 months ago
Real Estate Sales and Marketing
–

7 months ago
Real Estate Sales and Marketing
–

8 months ago
Real Estate Sales and Marketing
–

6 months ago
Certifications
Degree in English - University of Idaho
Graduate - American Writers & Artists Institute
Skills
Marte's involvement in writing for real estate goes beyond writing a web page, a bio, or a series of real estate prospecting letters for an agent – she's also interested in seeing every ambitious agent succeed in the business.
She remembers the real estate classes she took and how little they taught about getting a start and finding those first clients. That's why, in addition to her primary real estate copywritng website, she created a website just for new real estate agents. It offers tips, advice, freebies, and products to help an agent get off on the right foot and jump-start their success.
In order to help busy agents prospect more effectively, Marte offers more than 30 pre-written real estate prospecting letter sets for reaching out to a variety of buyers and sellers. These are available both on the "beginner's site" and on the prospecting letters page at Copy by Marte.
Marte believes that a successful real estate career is a blend of many kinds of marketing - some done in person, and much done through the written word. It requires the courage to "leave the herd" and market your individuality while creating a niche in which you can become THE expert. After that, it requires skill in marketing your listings so that they too stand out from the crowd.
One of her goals as a real estate copywriter is to help as many real estate agents as possible break out of that mold and represent themselves with websites, real estate agent bios, and a variety of other real estate marketing materials that give prospects an urgent reason to call. 
Marte publishes a weekly real estate marketing ezine – offering a variety of marketing tips, reminders, and a bit of gentle nagging. If you'd like to receive these weekly messages, please visit her at copybymarte.com to opt-in.
Testimonials for Marte Cliff
Lisa Blenden REALTORR, RSPS

07/29/2017

Hi Marte-

Thank you writing such a wonderful bio. I have spent hours trying to get everything into a narrative that pleased me. You have done just that! It's perfect!

Tony and Suzanne Marriott, Associate Brokers, Serving Scottsdale, Phoenix and Maricopa County AZ

06/14/2016

A big shout out to Marte Cliff here – her letter sets (we have purchased many over the years) – were far and away the most comprehensive and robust, and fit well with how we do business. A few "revisions" to accommodate how things work in Arizona – but that reasonable investment saved us hours – if not days – of time.




Loretta Maimone

08/01/2013

I just wanted to let you know how much I love your writing style! You pack a punch maintaining a wonderful message with just the right amount of humor. Helpful not overbearing, lighthearted yet sincere, professional yet friendly.



Just wanted to let you know, I appreciate you and think you are awesome!

Heather Wright

04/29/2013

Marte wrote my agent bio. She was thorough in her preparation and met all deadlines. She\'s a true professional to work with. Best of all, I have a fantastic bio thanks to Marte!

John Kavaller: Owner-Broker Catskill Country Real Estate

02/25/2013

"I was looking for a quick start package to augment my own marketing material. Although I enjoy writing ad copy, I needed to maximize my field time where the bones of the real estate business rest. I found Marte's site and liked her easy going content & style. I am thrilled with the material Marte has developed and will be centering a full marketing program around the two packages purchased. Feel free to contact me anytime for a personal recommendation."



Rosanne Moore, Sugarland TX

07/08/2012

This is absolutely wonderful! You are a great listener and awesome writer. Amazing! You injected the personal side of me into the copy and capitalized on my skills and its application to my real estate profession. That's exactly what I envisioned, but didn't know how to organize my thoughts on paper.




Susan Haughton

01/18/2012

The articles are exactly what I wanted! Full of great detail, without being wordy, and best of all, they sound like something I would write! Thank you so much! I'm sure we will have another project in the near future! I could not be happier. Feel free to use me as a reference any time.



Dan Shedarowich

11/17/2011

Marte, I am not in the R//E business but I like your stuff. You have the talent for respecting the clients in your letters and not shoving ME ME ME ME , I I I in their face. It's how can I help YOU not how can I help me.

Hopefully I can learn something from the way your write. Keep it up.

I have passed this along to a R/E friend.

"Initially I contacted Marte about writing our 'About us' page & a couple of other static pages but I liked her writing so much and she captured what we are all about so well that I got her to write the entire site, plus bios, plus articles, plus a series of 10 recruitment letters."



Ken Kaplan Commercial Property Pro

02/08/2011

"Marte is an outstanding copywriter with an excellent understanding of the real estate market, real estate agents and how to write for the web. She listens well to understand the desired outcome and then produces compelling work quickly."


Introducing a fresh new look for your Profile.
Click the 'Edit Profile' button below to enter 'Edit Mode' and continue the tour.