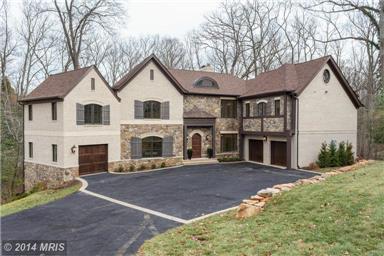 Get to Know Allie Chamberlain
Allie Chamberlain, A Northern Virginia resident since 1993, brings savvy contract negotiation experience and a meticulous sense of organization to the Wydler Brothers Team at Long and Foster. She holds the Accredited Buyer's Representative Designation (ABR ®), the benchmark of excellence in buyer representation and is a member of the Northern Virginia Association of  Realtors ® and the Real Estate Buyers Agent Council. Allie specializes in listing and selling residential homes as well as investment property for sale in Vienna, Oakton and Great Falls. She and her family are active in the community of Vienna and have resided there since 2003. She recently served as PTA President in a Vienna elemetary school and continues to be an active volunteer for the local area.
Certifications
Accredited Buyers Representative
Awards
Northern Virginia Association of Realtors Top Producer 2014
L. Schwartz
04/30/2015
I was contacted by Allie after submitting my interest in a property on zillow end of last year. At first I was a bit hesitant to endeavor to find my first home online, but after talking with Allie, decided to give it a try. Very knowledgeable, great to work with and very responsive. She helped me buy my first house, all in all the process was fairly painless and she helped me work through everything, and most of all put my mind at ease and addressed any problems i had when there were any concerns or questions.
A. Grose
02/09/2015
Purchased a House after looking at many houses over a month and was very happy with the result. The process from contract through inspection and financing went very smoothly.
E. O'Brien
12/29/2014
We had a great experience working with Allie and the Wydler Bros team for the sale of our house and the purchase of a new home. Allie helped us during a very stressful time to get our home ready for sale and guided us through the process of selling and buying. It was a pleasure working with her and her guidance helped us get our new home when there were multiple bids. We would highly recommend Allie and the Wydler Bros team!!!
L. Gibson
12/04/2014
Allie Chamberlain was our agent in selling our family home of many years. She did a fantastic job from start to finish, developing an effective strategy for marketing the house; advising us on staging and fix-up issues; and most importantly, negotiating brilliantly during the sale process. Our house sold in a matter of weeks and we could not have done better. Allie is the very best!
T. Cotto
09/23/2014
Allie was fantastic in helping me on both the sale of my co-op and the purchase of a new single-family home in Arlington. She was tremendously skilled at working with other agents and kept me informed throughout the process, which was very empowering.
B. Washington
09/18/2014
Allie Chamberlain was a phenomenal realtor and we have had many to compare her too. She is incredibly smart and business savvy. The thing that we appreciated the most about working with Allie is that we trusted her. In general we have yet to find many other realtors that are trustworthy, genuine and sincere. We were also impressed by how super detail oriented and knowledgeable she was. She was available to us day and night. Quick to answer all questions and concerns we had. Buying a house is stressful and has a lot of ups and downs, Allie made this whole process manageable for us. We feel like she took a lot of the stress upon herself and made our buying process relatively fun, actually! Bottom line is Allie looked out for our best interest and took care of us every step of the way. We strongly suggest choosing Allie as your realtor.
D. Landsman
03/12/2014
When we first met her we were impressed with her responsiveness, after a four and a half month house search, she exceeded every expectation we had for our realtor. We ended up going through three houses, walking from two houses after the home inspection. We put Allie through more work and headaches than most do, but she never faltered in her service and personal care/attention. She made us feel very comfortable about our decisions and never forced her opinion, though she provided great guidance throughout each decision we had to make (even when my wife and I had slightly different ideas/opinions!). We didn't know much about NoVA, but Allie consistently went out of her way to show and teach us as much as possible about the area. I can't stress to you enough how responsive she was during the process, taking calls and fielding emails early in the morning to late at night. She did her best to be responsive and update us with no updates when we were dealing with some less-than-responsive seller's agents, which was really reassuring to know that she was on-top of the situation and pushing for us. In the end, Allie helped us negotiate a great price and terms on our dream house. We highly recommend her!!
E. Geckle
10/07/2013
Allie was a pleasure to work with while searching for our home. She was very knowledgeable about the area, which was extremely important since we were not. She was also extremely communicative, responsive, and always professional.
R. Baird
09/30/2013
My family and I just relocated to Seattle from Northern Virginia for my work. We were very stressed out with the move and everything it entailed. We decided the best path forward was to rent out our home in Vienna, VA for 2 years to make sure the move to Seattle was the right choice for us. I had no landlord experience and weren't even sure where to begin. We decided to hire Allie with Wydler Brothers and I are so glad we did. She met with us and viewed our home and made a few reasonable suggestions as far as things that we should fix up, paint, and etc. My job required that we move almost immediately so we had to work with Allie from afar in Seattle. She was great. She took great photos of our home and surrounding area and wrote a very professional description of our home. Almost immediately several people showed interest in the home. Allie showed the home numerous times to the family that ended up renting it on a two year lease. Getting our home rented within a couple of weeks was a life saver as several other homes in the neighborhood had been listed for rent for much longer than ours, and we simply could not afford to continue paying the mortgage in Virginia as well as rent in Seattle. I was very impressed with Allie as she had great insight as to how much we should rent the home for, and what types of things we could reasonably expect from our potential tenants. She took the time to talk with us and assess how she could best take care of our needs. When it came time to negotiate and finalize the terms of the lease, she worked hand in hand with us and the tenants to make sure both parties understood exactly what the lease required from each of us as landlord and tenant. I am confident that because of her due diligence and hard work that our first experience as landlords will be much more positive and rewarding than if we had tried to do it ourselves. I highly recommend Allie for any of your real estate needs, she is truly great at what she does. For what it is worth, we were so impressed with how she handled this entire process, we will have no hesitation in 2 years with using her to sell our home if we end up deciding to stay in Seattle
N. Miller
09/30/2013
It was a pleasure working with Allie during the process of finding and purchasing our first home. Allie was always available, has an excellent understanding of the market, had great recommendations for anything from home inspector to mortgage lender, and even worked late evenings to ensure our bid was placed ASAP. She has a fine attention to detail and I would highly recommend working with her on purchasing or selling a home.
J. Jordan
06/08/2013
Allie Chamberlain was a pleasure to work with from the beginning to end. She has the knowledge, expertise, and customer service that made selling our home a painless experience. We received sound advice throughout the process with clear direction and our home sold immediately. We always felt our best interests were top priority. Allie is extremely knowledgeable regarding the housing market in Vienna, VA area. We couldn't have been more impressed with Allie, and would recommend her highly. We've used several realtors in the past, and Allie is by far the best.
A. Artley
04/24/0013
Allie demonstrated excellent knowledge of the market. Her communication skills are diplomatic yet straight forward. She helped to alleviate a lot of the potential angst over selling a home. I highly recommend Allie as a realtor.
A. Barkan
02/19/0013
My husband and I relocated from Manhattan and were unsure where we wanted to live and whether we wanted a single family home, townhouse or condo. Allie did a great job showing us different neighborhoods and different types of homes. When we decided to purchase new construction, Allie was with us every step of the way from signing the contract and choosing upgrade options, to keeping tabs on the progress of our townhouse, to the pre-closing walk through and the closing process. Allie is an excellent realtor and we can't recommend her enough!
M. Buie
06/19/0012
Allie helped me buy a house in a fairly heated spring market. She gave great guidance throughout the process and helped me stay level-headed. In the end, we found the perfect place! I would highly recommend her to anyone in need of a real estate professional.
M. Leslein
06/07/0012
Allie provided great service. She was really prompt with her replies. She helped bridge the gap between us and the lender. I think the her best point was her ability to clearly explain the entire process (to include the actual loan and not just negotiating on homes).
M. Wheeler
03/11/0012
We purchased a single family home in Vienna, VA with Allie, who expertly guided us through the entire process in under a month! We were new to the area and didn't know what town we wanted to live in, or even whether we wanted a townhouse or single family home. She did a great job of educating us on what was available, but more importantly she quickly learned what we liked and didn't like. She previewed the properties for us, which was a great help. After only our third time out she took us to a house she thought would be a really good match. We walked in the door and immediately knew it was our home. She had read our minds perfectly - knowing what we wanted even before we really did - and we ended up making an offer that very day. She was willing to work on our contract and negotiations late on a weekend night and helped us reach the price we were looking for. We couldn't recommend her more highly.
K. Baxter
02/01/0012
As a first time homebuyer, the process seemed a little confusing and nerve-racking. Allie was patient with us and helped us weigh pros and cons. She listened to our concerns and explained the confusing legal/real estate terminology well. She went above and beyond after normal working hours and on weekends to make sure our paperwork was received and processed. She made us feel confident about the choice we made and the next steps. We are so happy to be in our first home and are indebted to Allie for the positive and smooth transaction!
format_quote
Honesty, Integrity and Results